Hadrian's Villa (Villa Adriana) and Villa d'Este in Tivoli Tours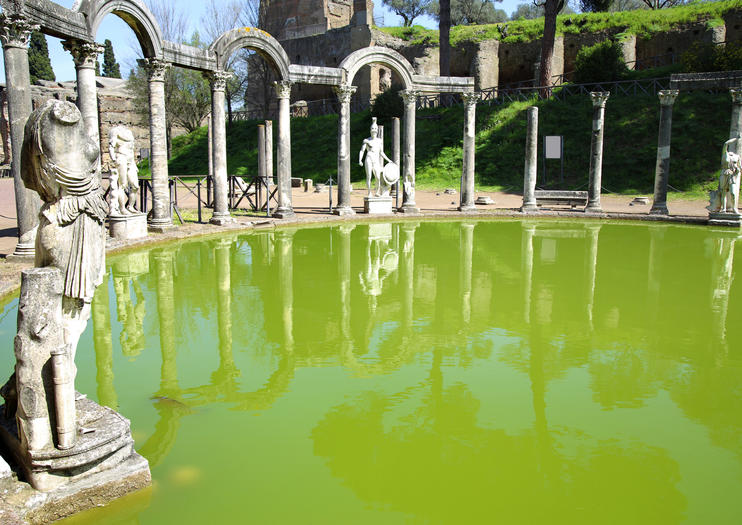 The Italian town of Tivoli, just east of Rome, is home to luxe residences, splendid villas, and two famous UNESCO World Heritage sites: the Renaissance palace of Villa d'Este, known for its extravagant, gardens and water fountains, and the ruins of Hadrian's Villa (Villa Adriana), the grand second-century estate of Emperor Hadrian of ancient Rome. A visit to both sites entails garden walks and a variety of ancient architectural styles—not to mention a quiet, elegant escape from the city and some of the best natural water in Italy.
Address:
Piazza Trento, 5, Tivoli 00019, Italy
Admission Tickets (6)
Tivoli is home to Villa d'Este, located just outside Rome and famous for its Renaissance architecture and gardens. Lines to enter this popular attraction can be long, but with this priority ticket, you'll avoid a delay at the entrance and can marvel at the UNESCO-listed villa and gardens at your leisure. Choose a time that suits your schedule and visit at your own pace with an optional printed or audio guide.
Face masks required for travelers in public areas
Face masks required for guides in public areas
Taking safety measures
Recent Reviews from Experiences in Rome
Disappointing guide experience with little knowledge
The pick-up was on time and the travel was fine. However, the guide, while nice, knew shockingly little about the sites we visited. I had read the small section in my tour book and done a tiny bit of reading online, and she knew even less than I did. I feel like we would have been better off traveling on our own and reading the published plaques than we were spending $200 per person for a guide who could not even simple questions on the sites and who actively got us lost within them more than once, causing us to double back and walk through areas we had already seen in the rain, and missing other areas entirely. She rushed us through some areas we wanted to stop and take photos, making us trot behind her to catch up. In one area, she stopped to speak to another couple in Italian for nearly 10 minutes while we waited for her to continue while standing in the cold rain. The actual sites we visited were lovely. but, especially having paid a premium rate for the tour, I was very disappointed with the quality of the guide and the tour as experienced.
I cant recall our guides name but she was fantastic. This place is full of history and considering its age is very well preserved.
private tour of villas/fountains
My 2 adult children and I had a wonderful experience walking the grounds of both estates. Our tour guide, Julia, was wonderful, and made the experience fun and enjoyable for us.
---
107 Tours and Activities to Experience Hadrian's Villa (Villa Adriana) and Villa d'Este in Tivoli